Tips For Selecting Bathroom Tiles
Remodeling is a great way to breathe new life into your bathroom. Especially if it has never seen a remodel in its lifetime. With the many decisions, you will have in fronts of you, such as the countertops, sink, and bathtub, one crucial feature should not go overlooked. The bathroom tiles can be a focal point of the bathroom, and they will make the restroom stand out and look chic. If you choose the wrong tiles, the look might clash with the rest of the home, and if you select the incorrect size, it could leave your bathroom looking small. So let's look at the four tips on how to choose the perfect tiles for your bathroom.
Select A Tile That You Like
When you go shopping for tile, there might be one specific tile that just stands out to you. This pipe will be what all the other flooring will center around. A popular option for today's modern bathroom has been asleep white subway tile. You aren't limited to this one by any means, but choose a tile that you enjoy.
Limit The Different Kinds Of Tiles
The name of the game with choosing your tiles is not over to do the color options and different types. A great rule of thumb when selecting tile is not to pick more than three different categories. Using more than three can create a feeling of a lot going on. It can be overwhelming. The thought is that you can have a tub or shower surround tile, floor tile, and an accent wall tile. If your first tile you select is minimalistic, don't be afraid to play up the other areas such as the floor or tub tiles.
Don't Overdo The Wow Factor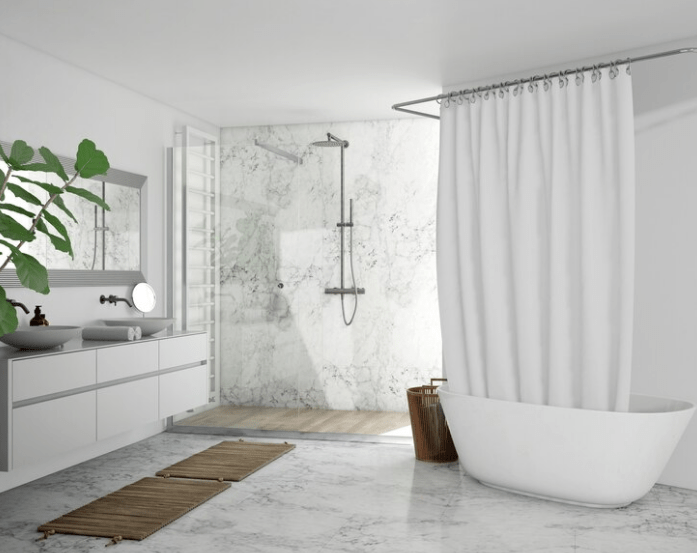 Going back to accent pieces, there are so many beautiful tiles out there it can be hard to limit your accent to just one. However, when it comes to wow, there can be too much of a good thing. Instead, opt for only that one show-stopping piece to draw attention. It is a way to create the perfect timeless look.
Consider The Scale Of The Tile
Did you find a good deal on tiles? Sometimes this can be a great thing. If you can pick up a tile, you like to purchase more significant quantities. You can use the same tile, just in smaller sizes if you have them cut down. It is not only financially a good deal, but also will look amazing in a shower remodel. Use a larger tile pattern on the walls and smaller on the floors. It will have a consistency of tile choice and color theme.
Conclusion
Choosing the perfect tile all has to do with your taste. What is right for one person isn't going to be for another. The best advice is to keep it simple. Choose a more neutral color palette for all over and one accent piece. Doing so will help to keep your bathroom looking great throughout the years.
For bathroom tile installation, go for Sacramento Handyman — the go-to handyman service provider in Sacramento. Call 916-472-0507 for more info.