Bathroom Services by Sacramento Handyman
Homeowners across California have a varying approach when it comes to bathroom renovations and remodeling. On one end of the spectrum are the people that feel a bathroom should be strictly functional and thus feel that any upgrades and construction lack any significant value. The other view on bathrooms is that they are (or at least can be) a sanctuary and any money invested into the area is a perfect use of a budget.
The Sacramento Handyman urges you that bathroom renovations are very much an important part of improving your home as you live in it. Let's face it, the bathroom is used multiple times every single day. It is the room where you likely prepare for your day and one you'll definitely use as you wind down at night. Your bathroom is arguably the most private room in your home as well.
But how much can you really upgrade a bathroom? The truth is a lot – and the renovations have varying benefits. Bathroom remodels can be done so that the entire house is more appealing to future buyers. Some bathroom projects increase the energy efficiency of the home and lower the water usage. Either way, almost every Sacramento bathroom renovation serves the task of improving your quality of living. In a nutshell, bathrooms can be wonderful! Some of our services that accomplish this task include: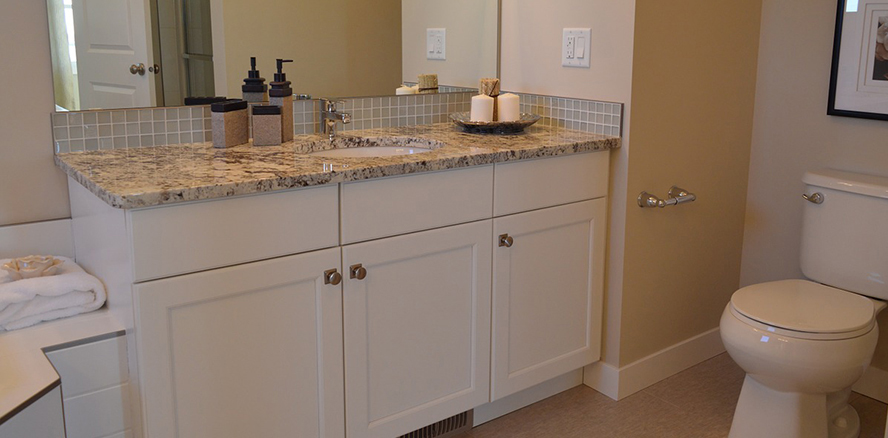 Sacramento bathroom fan installation and repair might not seem like the most glamorous project, but it is one you'll definitely be in search of as issues persist. We all know that the bathroom fan is important for eliminating odors, but it is also vital for flushing humidity from a hot shower out of the home. When that wet, thick air is allowed to stick around it can lead to mildew growth and rot on the walls and wood and may damage certain types of bathroom flooring. Fixing a bathroom fan is sometimes necessary just to avoid the irritation and annoyance of a buzzing, rattling, contraption as you're trying to relax with a warm bath or get ready in the morning.
Bathroom fan installation in Sacramento is something that should be explored to upgrade your current model. Some modern models feature not only a light that can replace your existing bathroom light, but also an accent light that can serve as a nightlight and to create a dimmer, calmer mood in the room. You may like a built-in heater that helps warm you up on our cool California mornings or a humidity sensor that triggers the fan to turn on automatically when levels rise. There are even motion sensors that trigger the light to turn on anytime somebody enters the room (but turn off after inactivity to help save on utility bills).
The Sacramento Handyman can help you with the sizing, energy rating, and all the other variables you will need to know regarding a new bathroom fan installation. Sometimes access can be difficult so it's best to hire a professional installer to perform the job accurately.
Whenever a bathroom remodel changes the layout of a room, you need to button the area back up. This is where Sacramento drywall repair and finishing comes in to play. One thing that is important with bathroom drywall installation is making sure the material is able to withstand the exposure to humidity and moisture that is almost a constant in the area. Building codes state that you must use water resistant backing materials in areas of high moisture. The Sacramento Handyman is adept at these California building codes and will make sure your project is done to the letter of the law.
Drywall repair in Sacramento is another service that we offer in the bathroom and other areas of the home. Holes in sheetrock and other imperfections can bring down the appeal of your entire house. In the bathroom especially they can leave wood and wiring exposed to water damage and mildew buildup which is why drywall damage in this area should be repaired ASAP. Our professional attention to detail creates high-quality patches that will restore that integrity.
Drywall finishing involves painting, wallpaper, or any other topping materials you desire to give your bathroom a truly customizable look. The final steps of putting your bathroom back together include installing trim boards, crown molding, and other materials that give the area a truly rich and finished look.
Dealing with a broken light fixture in the bathroom may seem like nothing more than a nuisance, but it can also indicate an underlying wiring issue. Since your bathroom sees so much water splashed all over the area, it's best to have a professional like the Sacramento Handyman inspect the wiring in a timely manner. Also regarding your safety, you definitely want a well-lit area as you're walking on potentially slippery floors (and for aiming help into toilets!)
Sacramento bathroom light fixture installation is not only about safety, it's about improving the aesthetics of the room itself. Bathrooms that are most appealing to future buyers (and the most comforting in the here and now) are ones with lighting options. You'll want a bright light (task) when getting ready for work or doing bathroom cleaning but you might also want an accent light for relaxing in the tub.
By allowing versatility in your bathroom lighting you'll be able to limit the amount of time fixtures are in use (zoned lighting) which helps lower utility bills. Just by changing the types of light bulbs in the fixtures themselves we'll be able to cut down on your bathroom electricity usage.
By adjusting the types of lights in your bathroom you'll be able to make your home energy efficient. In order to dramatically lower the utility bills stemming from your bathroom however we recommend low flow toilet, faucet, and shower installation. These types of Sacramento bathroom renovations (along with an upgraded water heater) can lower water usage by up to 60% or more. Old toilets especially might be using up to 6 gallons per flush whereas low-flow units require barely over one (1.28 approximately). Give the Sacramento Handyman a call for professional installation on these fixtures that provide some of the fastest payback rates in the industry.
In lieu of new toilet installation in Sacramento, it's also important that all your bathroom fixtures are in proper working order. Small leaks in a faucet can set you back anywhere between $20 to $200+ per year but a running toilet might be wasting up to $800-$1,000 per year in higher water bills. This proves that the constant dripping or random flushing of a toilet is not only a nuisance, it's a legitimate drain on your wallet as well. Some California homeowners are leery about calling in a professional for a service call, but our costs pale in comparison to what you'll be spending without our visit.
Fixing plumbing leaks in Sacramento is done not only at the source of output such as the bathroom faucet or the toilet, it is needed along the route from the water heater as well. In fact, it could be argued that these largely hidden minor plumbing leaks could be a route cause of more costly repairs when you take into consideration damaged insulation, drywall, wiring, flooring, etc.
Minor plumbing leaks are costing you money every time you operate one of the fixtures as well. Pressure in your shower, toilet, or bathroom sink is decreased during leaks kind of like a hole in your HVAC ducts that loses some of the finished product en route. The water heater, just like the air-conditioner, is still working just as hard but needs to work longer to satisfy your demands. Leaks in your plumbing drive up water bills and risk damage to home components, but are also shortening the life span of your water heater with every crank of the 'hot' or 'cold' handle.
Since a majority of shower doors are made of glass, the repair and installation is almost always best left to the pros like the Sacramento Handyman. Granted, according to building codes tempered glass must be installed on shower doors for safety reasons, but the awkwardness of the units (and the cost) leave it a job for experienced technicians.
Shower doors also come in a variety of styles such as sliding, pivot, or tub doors so it's best to let somebody with dozens of installs under the belt perform the installation. A poorly done DIY job leaves potential for the shower door to not acquire a proper seal, which could expose the surrounding bathroom area to excessive water damage.
Believe it or not a shower door upgrade actually does add great value to your bathroom. You may want to increase your privacy with a textured shower door or you might want to follow the latest design trends and install a model that is 100% clear. We can even remodel your bathroom to incorporate an open shower design or go the opposite route and frame it in with a variety of decorative style options. The 'spa-like' shower panel is very popular now as is the 'waterfall' head – either way you have choices we can discuss so contact us today.
Tile has been the go-to choice for bathroom flooring for years. Today's tile options however are a whole new ballgame compared to the bland monotone colors of as short as a decade ago. From basket weaves to glass to faux wood and stone to reflective tiles and more, the choices in styles are as plentiful as ever.
Best of all, the benefits from installing tile in a bathroom have remained constant. It is the most moisture-resistant flooring material available which can be cleaned with nothing more than water. Tile is the best conductor for in-floor radiant heating if the bottoms of your feet are especially sensitive to a chilly morning. Tile is durable, but tile repair can be done on a piece-by-piece basis if damage does occur.
Of course tile is for much more than flooring in your bathroom. You are limited only by creative boundaries when it comes to shower panel tiling, vanity backsplashes, or even the modern floor-to-ceiling installation that has made bathrooms easier to clean (and more resistant to mold) than ever before. The Sacramento Handyman is your tile installation and repair expert with design ideas that are even beyond Pinterest level!
In many ways the vanity and mirror create the whole identify of your bathroom. The vanity especially can either free up space in the bathroom or crowd and cramp the area to destroy the whole vibe. The Sacramento Handyman can provide you with multiple mounting ideas so that you can maximize space while still being allotted storage and a work area for getting ready for work, bed, etc.
Bathroom mirror installation is equally as important as the vanity. You'll want to contract professional installers like the Sacramento Handyman so that the mirror is anchored properly into the wall but also level and centered. The last thing you want to do is walk into the bathroom groggily in the morning only to slice your foot on the shattered mirror on the ground.
Our goal with bathroom renovations from the Sacramento Handyman is to help you create a sanctuary but one that is functional at the same time. Ideally your bathroom will be versatile enough to accommodate multiple different situations but will maintain a style and appeal that is consistent with the rest of your home. Each feature should also be as energy efficient as possible – allowing you to consume a minimal amount of water and electricity.
Give us a call to see how we can get started bringing this 'Swiss Army Bathroom' to life.