Kitchen Repair and Services by Sacramento Handyman
9 out of 10 real estate agents are going to tell you that the kitchen is the most important room in the house (that one holdout claiming the master bedroom is more valuable) and it's easy to see why. In many ways your kitchen has to be the most multi-functional and versatile room of any. The kitchen needs to serve as a spot for entertaining guests, a morning congregation area for your family and a place to prepare food.
In some home layouts the kitchen is the first room entered by guests. Because it needs to serve all these needs a kitchen should be stylish yet functional. It needs to be well-lit at times but have the ability to transform into a more intimate setting during other occasions. A kitchen needs space to move about, but ideally will also have room for storage. Simply put, your kitchen wears a lot of hats.
When real estate agents proclaim the importance of your kitchen, they do so regarding the time that your home goes on the market. The Sacramento Handyman offers kitchen remodeling renovations that serve the 'here and now' but also provide value you can recoup down the line. With our kitchen services you can achieve the three components to a perfect remodeling project, which are:
Increase quality of living now
Lower utility bills
Make your home more valuable when it's time to sell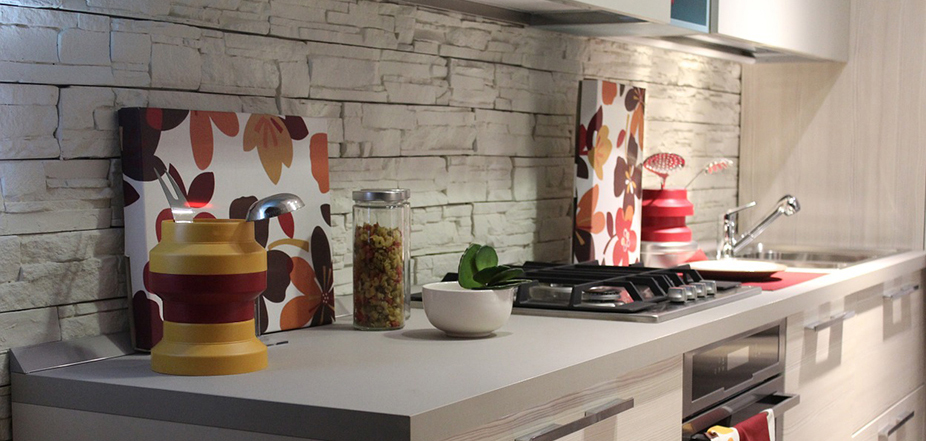 Most kitchen remodeling projects accomplish at least two of the three tasks. They include:
The kitchen remodeling services that get the most attention and provide the best 'wow factor' are usually cabinets, countertop, or flooring installation. Don't sleep on the importance of a stylish backsplash however. In many ways the kitchen backsplash is the feature that really 'holds the room together' creating a perfect style in the open areas between the cabinet and countertops. Backsplash options can either blend in colors or they can provide contrast that defines the whole kitchen style.
Let's not overlook the fact that kitchen backsplash installation is done for functional purposes as well. The backsplash (as it name implies) is designed to protect the wall extending up from the countertop against water, grease, and cooking oil damage. The materials used must therefore be durable enough to withstand this splatter but should also be easy to clean and maintain. Glass mosaic tile is therefore the most popular backsplash material although granite, stainless steel, vinyl, and other materials are definitely a possibility.
Cabinet installation and repair in your kitchen is consistently one of the best investments a Sacramento area homeowner can make. Your cabinets are undoubtedly the star of the most important room in your home. They provide the overall appeal and tone of your kitchen while also serving the very important function of offering storage. Sacramento cabinet installations aren't just referring to the traditional over-the-countertop styles either. From pantries to breakfast bars to full floor to ceiling cabinets these beautiful features offer a timeless ROI.
Our customers have options not only when it comes to cabinet styles, but in regards to material as well. You might be aware that wood (oak, maple, hickory, cherry, birch) is traditionally the most popular cabinet material. Hardwoods especially offer a return on investment that seems to only increase over time. If you want the wood look but without the hardwood price you can also opt for veneers. Another option is medium-density fiberboard (MDF) or even aluminum or brushed stainless cabinets. The one thing that remains certain is that the Sacramento Handyman gives you all the options to make your kitchen truly customizable.
The more in-depth you look at various kitchen remodeling tasks, it becomes harder to rank one feature as more important than another. For example if you splurge for high-end quality cabinets, isn't some of the luster lost when you opt for low grade countertop materials? Countertops have just as much resale value as any other feature in a kitchen and it could be argued that their elegant style makes items like flooring or a countertop 'pop' even more.
So what should you look for in a quality countertop? Finding a luxury material like granite or some other stone is nice, but you also need to know your main kitchen functions. Do you have small kids that might scratch and chip the countertops at this moment? Do you cook a lot and thus risk spilling greases and liquids that could stain the countertop surface? Do you rarely use the countertop at all and therefore can value appearance over functionality and durability? These are questions that must be asked of the six major countertop materials that the Sacramento Handyman installs:
Natural Stone (granite, slate, soapstone) – ideal for high-end kitchens as no other material captures the natural allure of stone products with visible veins and authentic color changing patterns. Very expensive and not exactly maintenance free (special stone cleaner is needed) but future buyers are sure to be awed by authentic stone countertops.
Ceramic Tile – the same things that make tile such an appealing backsplash material (stain-resistant, easy to clean, durable) make it an ideal choice for the kitchen countertop itself. Creative design patterns allow the ability to create a truly unique and customizable tile countertop surface.
Wood – traditionally maple, teak, walnut, cherry, and oak are the most common wood species used in countertops. If you have a cabin kitchen you need remodeling or want to stick with the rustic theme wood is your best cabinet choice. It is a hit or miss material for more modern kitchens however.
Concrete – although a seemingly ancient building material, concrete is becoming more and more popular for use in modern kitchen countertops. Precast slabs offer a very smooth finish and we don't need to tell you about the durability of concrete – if it's good enough for your home's foundation it better be able to withstand everyday kitchen exposure.
Stainless Steel – some of our customers who are frequent, almost commercial, bakers have found success in installing stainless steel kitchen countertops. Stainless is the most sanitary of any kitchen countertop material
To get the most value out of your countertop installation it's best to hire a professional like the Sacramento Handyman. You want your cabinets to be installed level so plates and glasses aren't constantly sliding. Not only that, it's important that cabinets are anchored properly for the safety of those in the kitchen and so that the units do not fall and cause damage to themselves or countertops, floors, etc.
A new faucet installation is one of those projects that can satisfy the 'big three' of home renovations. For one, upgrading your faucet to an elegant, stylish new model will make your kitchen more appealing and thus more valuable. You can also upgrade your faucet to increase your quality of living with custom features such as a gooseneck spout, single lever operation, a pull-out hose, various spray and stream selections, and more. Finally, low-flow faucets can also help improve on your utility bills by using less water when you wash dishes, etc.
Speaking of utility bills, they are another reason why professional faucet repair is recommended. Without a proper seal a dripping faucet can not only be annoying, it can waste water much more than you'd ever believe. The Sacramento Handyman also specializes in faucet repair. If you have a leak, issues with your spout, loose handles, and more we can get your kitchen features back to original shape.
Kitchen sink repair extends to the drain itself as well. Blockages, clogged grease traps, and other issues can cause water backup that brings with it a horrendous odor. Standing water can lead to mold growth, insect inhabitant and other issues that are best avoided whenever possible. Through the use of chemicals, special sink tools (snakes, pipe cams, etc.) and more we can diagnose the issue and provide the correct solution.
Tiles are one of the most feasible material choices for Sacramento kitchen flooring. The durability is arguably the best in of any material, especially when you consider the water exposure that can occur in a kitchen or the spilled foods, greases, and oils that come with the location. Any of these spills can be easily wiped up from tile with little to no risk of damage.
Kitchen tile installation can also bring style to the most important room in your house. Between creative tile positioning and improved modern manufacturing methods tile offers a better ROI than ever before. Porcelain and ceramic tile can be crafted to emulate some of the most popular flooring materials of today including natural stone and even hardwood. Tile is available at a fraction of the price of stone and without the stability issues (moisture, humidity) of wood.
Once again the risks involved with installing tile in Sacramento kitchens makes it a project that is best left for the professionals. You want the tile to start and end with as equal of pieces as possible. You want the tile to be installed straight, you want to use the perfect amount of mortar adhesive, and you want the grout to be finished in a clear and concise manner. The maximum ROI is usually only possible when tile installation is done by an experienced flooring contractor like the Sacramento Handyman.
Our Sacramento kitchen remodel and renovation projects don't stop there. Almost any contracting work done in the kitchen will add an incredible amount of value while bringing you back returns in a multitude of ways. Some kitchen remodeling projects that the Sacramento Handyman offers includes:
Window Installation – adding windows to a kitchen provides value in a number of ways. First, natural light is always something you strive for, especially in a room that usually needs to be well lit. Kitchen windows that open also provide a cool breeze and circulation to help air out the kitchen while cooking.
Lighting Upgrade – since your kitchen serves many different functions, your lighting should be versatile as well. Ambient, or general, lighting is a must for everyday use but task lighting is also valuable overtop areas where you cook or read. Even some form of accent lighting is recommended so that you can dim the mood when entertaining or for safety when the kitchen is the entryway to your home. With energy-efficient bulbs a lighting upgrade can even save you money.
Appliance Swap Out – another area of the kitchen that can eventually save you money with a remodel is getting rid of old, energy-draining appliances. A new refrigerator, dishwasher, oven, and more should be considered as part of a whole-house energy makeover. In many instances these new appliances will be a selling point to future buyers. Stainless models and units with increased technologies (LCD screens, Smart phone controlling abilities, etc.) provide even extra ROI.
Remodeling – open floor plans are a very popular kitchen design trend in today's market. Some other general remodeling might include adding a pantry, extra storage, or changing the layout to create a center island or breakfast bar. Together we can design the best kitchen that works for your specific uses while retaining some value for when the home goes on the market.
It really can be hard to understand the true value of your kitchen from a style, quality of living, and energy efficiency standpoint. The room should be one of the first ones you think about renovating in an older home because it is so frequently used and could very well be costing you money in terms of outdated appliances. Most importantly, you want a kitchen you can enjoy – no matter how you specifically use it.
Contact the Sacramento Handyman today so that we can help make your dream kitchen a reality.