Roll Up Door Repair by Sacramento Handyman
Roll up doors are a convenient alternative to traditional doors. They are also space-saving and can be installed if a swing door cannot be established, or if sliding doors are not providing the level of safety that your business requires. Often used for shops and garages, roll-up doors, as exterior doors, they are exposed daily to weather and harsher elements such as cold, heat, and the moisture of rain and snow. It is important to make sure that your business can repair its roll-up doors on a regular basis.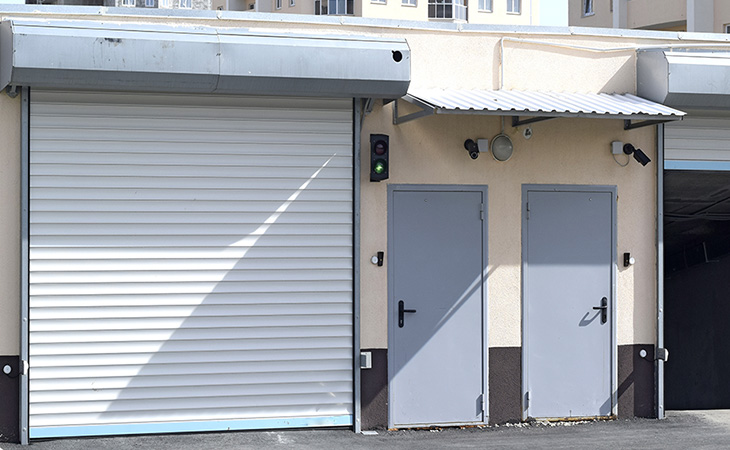 Whether your roll-up doors are in your residence or are for your business, they are mounted on running tracks made from metal. They have hinges, tracks, and rollers. When it comes to repairing these more convenient doors, the first step will be to clean the tracks. If they have been too damaged, you may have to have them – or the entire door – replaced in this case. Hinges can also become bent and need replacement if they cannot be repairs.
The rollers themselves become worn over time, and without repair, will need to be removed and replaced. Hinges are replaced before rollers, and it is important that each piece matches the other so that it can continue to run smoothly. The commercial door experts at Sacramento Handyman will make sure that your roll-up door repair or installation is done correctly and to last.
With decades of experience, Sacramento Handyman offers an extensive portfolio of high-quality work under our belt. There are many other services available, whether for your home or business. Sacramento Handyman has long been a trusted and reliable name for comprehensive home repair and maintenance. Other door repair includes residential doors such as screen and sliding doors, French doors, pocket and patio doors, and even shower doors are on the repertoire at Sacramento Handyman. Residential door repair is something that is taken just as seriously as those doors for commercial property.
Sacramento Handyman specialties include interior finish carpentry, which gives your home the finishing touch that it needs with crown molding and decorative trim. Sacramento Handyman has over two decades of creating high-end decorative trim in custom homes. Exterior carpentry is another difficult task that we can quickly take on. Any home siding repair or replacement, soffit, and even a leaky roof can all be tackled by our team of experts.
Sacramento Handyman has a far reach in all areas of Sacramento County, including Curtis Park, Newcastle, Auburn, Woodland, and others. Our central office is in Sacramento, and we have kept our promise to offer only the best work possible to each customer in all available locations.
Call Sacramento Handyman today for a free estimate. If you are not sure exactly what needs to be done for your home or business, you must directly send us an email with a few photos so we can help you decide what your home needs. With competitive pricing and efficient timing, the team of professionals at Sacramento Handyman makes sure that any home repair or maintenance job is done right the first time.