Bathroom Tile Installation by Sacramento Handyman
Your bathroom floor should not be forgotten in the scheme of repair and remodeling. From a smoothly running toilet to a shower door that doesn't stick when you need it to open or close, it can be easy to forget about the floor we walk on every day. When it comes to getting repairs in your home, remember to look down.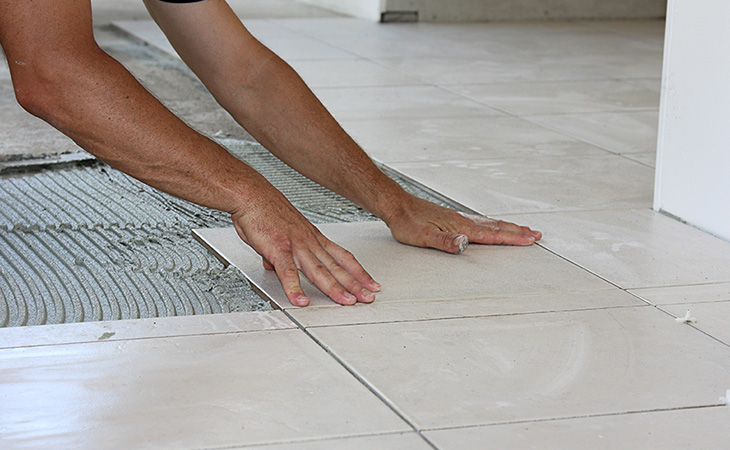 Tile flooring provides natural moisture resistance and is often a cheaper option for flooring, other flooring options including carpet or wood. Once you've noticed that your bathroom tile needs a bit of work, you must first decide how much work is necessary. How many tiles are in disrepair? Are they do out of place that you need entirely new tile? If so, should you lay down new tile on top of old or re-do the floor completely? Because tiling provides several benefits for any home, regardless of whether it is laid in the bathroom or kitchen, it is essential to understand how large of a project for tile repair you'll be undergoing.
For a project that means keeping the old tile in place, preparation will not be difficult. If the old tiles were installed well – by yourself or a professional – you would not need to uncover the floor. A second layer can be installed just fine with this even footing but remember that you will be raising the level of the floor by adding a second level of tile. Tap each tile with a piece of wood; if you hear a hollow sound, the tile is loose. Remove any loose tile and reattach with a thin-set. As well, use a level to rule out any high spots on the floor. Of course, clean any grout in the tile, as well as sweep and vacuum to ensure that the floor is clean underneath. Mop if necessary.
However, if you need to remove flooring in your bathroom, there is much more preparation and time involved. Do not accomplish this step on your own if you are not comfortable doing so or do not have the expertise for such a project. You may be able to rip tile up on your own, but tile installation can be costly, so you'll want to make sure that you do it right the first time – even if that means spending more to call in the experts.
If you aren't sure how much repair is necessary, call in the professionals. They will be able to present to you an evaluation regarding how much work they believe is essential. Once you know what should be done, you can decide which action you can perform ahead of a contractor coming to your home.
With the help of bathroom experts Sacramento Handyman, you will find yours have never looked better. With decades of experience, our experienced professionals are always ready to get the job done right – the first time. Not exclusive to bathroom repairs, such as tile installation and repair, shower door installation and repair, and more, call the real experts today for an honest estimate and a job is well done – the first time.