Sacramento Door Repair: The Wonders that Sacramento Handyman Can Do!
Sacramento is littered with several shops, establishments, and homes. An essential feature of these structures is their doors. They may bear unique designs and carvings, be made from wood, aluminum, or vinyl. But as personalized as these essential features, maybe, what these doors have in common is the fact that they can get damaged. Exterior doors are prone to damage from the weather mainly because they bear witness to the stories of people who go through them and use them frequently and to the harsh conditions that Mother Nature unfortunately sometimes brings with her.
So when these doors get busted, they need to be taken care of for them to regain their optimum function. The varying levels of care that these doors need also depend on their type and the main components that they are made of. Thus, despite sounding very easy, door repair, particularly in Sacramento, CA, takes skill, patience, and believe it or not, a whole lot of love for this type of job! In other words, not everyone can do it and do it well!
Why Choose Sacramento Handyman For Your Door Repair Needs?
In Sacramento, there is one company that provides superb, quality, and fast service for door repair regardless of the door type! That company is none other than Sacramento Handyman. We, at Sacramento Handyman, have over 20 years of experience in repair and maintenance, and we could easily handle door repair for any Sacramento structure.
Our two decades of experience is backed by testimonials from clients who find our finished job delightful and our repair and maintenance agents amiable. These satisfied clients tell us that not only do we provide them great service we are also pleasant to work with! But don't believe what we say, you have to experience us first hand! So when your door needs repair, call us, and we will do all the work for you!
Types of Doors We Can Repair
We are not choosy when it comes to repairing doors. We can do great work on doors like French doors, double hardwood doors, steel doors, and any door type that you could ever imagine! We know our trade, and we get the work done accurately and within a logical length of time. However, you might prefer to immediately gain more knowledge regarding the doors that we could repair. We recognize that knowing more about our service is essential to you, so we made the following information available for you. Below you'll find our most commonly requested services and a little bit about each.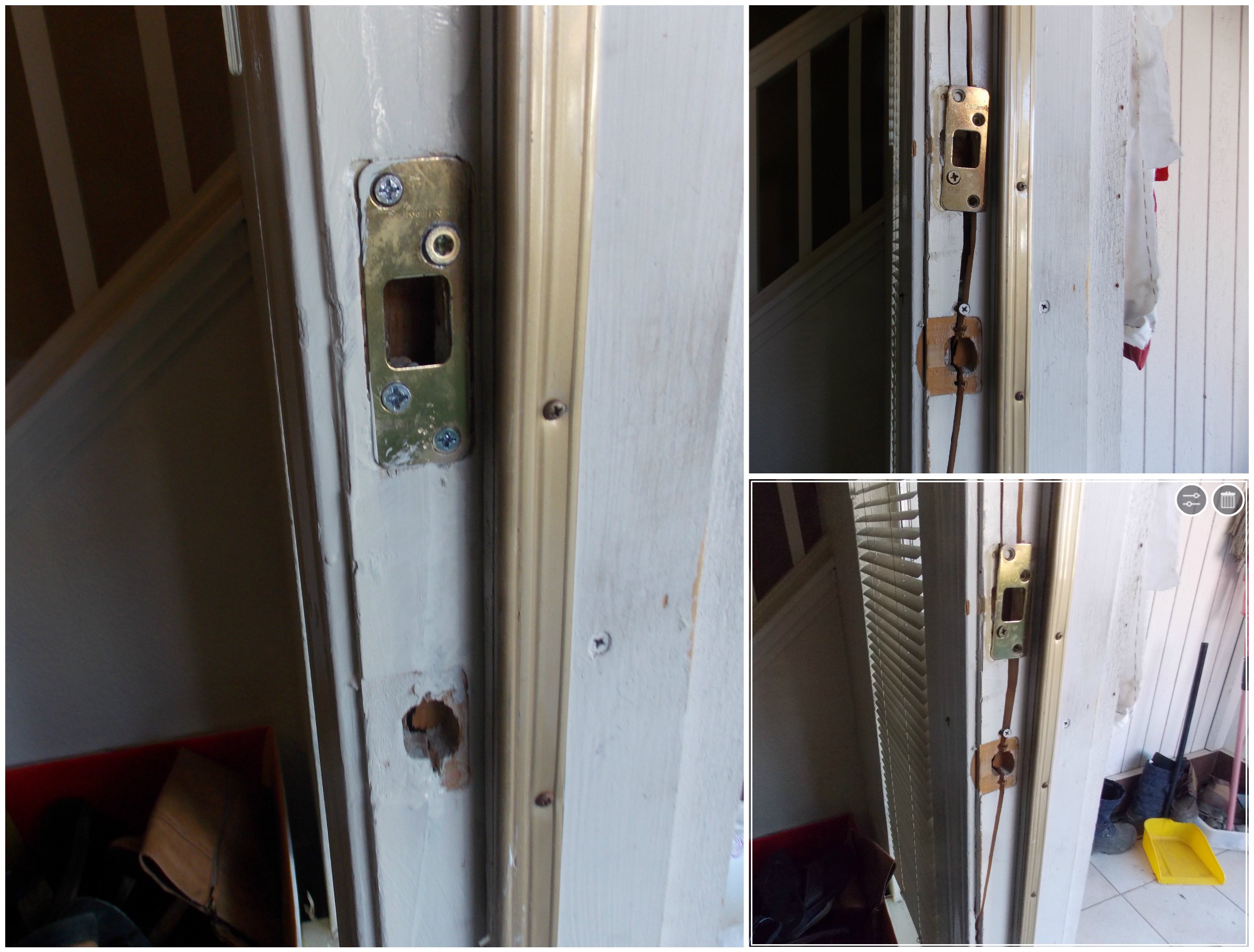 Commercial Door Repair. Commercial places such as the boutiques and shopping centers make use of manual glass doors. Even when these clear glass doors are heavy-duty, there are instances wherein they could incur damage. When your shop's glass door incurs such unexpected damage, we at Sacramento Handyman can secure it for you and replace it with a new one that may be tinted or clear and laminated or not. Of course, this would depend on your preference. If you also need one that is bulletproof, rest assured that we are also there to assist you in getting a bulletproof door and repairing it for you, too, when it becomes essential. So let Sacramento Handyman help you repair your commercial doors when they start to malfunction. Afterward, after you are pleased by the quality of service that we have, be sure to tell your partner establishments about our commercial door repair for Sacramento shops!
Emergency Door Repair. Emergency doors can be Steel Security Doors, or they can be Corrosion Resistant Doors. Such doors are usually highly resistant to corrosive environments or various security threats and can withstand emergencies such as those that are common in the hospital setting. Whatever purpose they serve for a specific place, these doors need to be maintained. When they start to break down, remember to call us because we are adept in emergency door repair. We at Sacramento Handyman are always ready to take these doors in as part of our case, whether they are aluminum, fiberglass or galvanized and stainless steel!
Sliding Door Repair. Sliding doors can be single slide or bi-parting, and like manual glass doors, they are typically used by commercial sites. Like other commercial doors, there would also come a time wherein they would go crazy and would need repair. If you're in Sacramento and you need sliding door repair services, you don't have to panic because Sacramento Handyman can be your sliding door superman! We don't just do sliding door repair in Sacramento, CA; we make sure that your doors get the royal treatment that they deserve!
Now, we know that the next question that might pop in your head is, what type of sliding doors do we repair? Well, we know people from Sacramento have varying aesthetic sense, so naturally, we also know that there are different types of sliding doors, but we never shy away from working on any of them. In other words, then, we at Sacramento Handyman engage in any door work such as sliding glass door repair and sliding screen door repair. If you're in Sacramento, CA, we promise you that you can rely on us and our services.
Screen Door Repair. We have already mentioned earlier that Sacramento Handyman can engage in sliding screen door repair. Naturally, this means that we have an easy time handling screen door repair for any Sacramento CA structure. These doors can be metal, vinyl, retractable, reversible, double or single screen, or a combination of any of these features; we can take care of them for you!
Roll-up Door Repair. Sometimes establishments have doors that roll-up since they're almost always so easy to use and maintain. Not only that, but they also save space because instead of swinging inside or swinging outside, they just roll-up and seemingly disappear from the person's view. Usually, roll-up doors are utilized in warehouses and storefronts. There are many types of roll-up doors, such as side coiling partitions, counter shutters, and service doors. If your place has a roll-up door and it becomes faulty or if something happens to its slats because of improper usage, simply pick up the phone, call us and trust our service. We'll get to you in a jiffy and render excellent service quality!
French Door Repair. Usually, French doors consist of a frame and translucent glass panels called lights, and they can be single or double doors. Although commonly used as patio doors, French doors are also favored by commercial space owners who are dedicated to giving their shops a whimsical and simultaneously elegant atmosphere right off the bat (and doors are commonly the basis of such first impressions of shops). French doors are more particularly used by cafés and pastry stores that have outdoor seating to accommodate their clientele who would like to relax outside and watch the passers-by while sipping their coffee or savoring their cake. If you're a café or pasty store owner with an out-of-order French door, you should consider calling Sacramento Handyman to take care of that broken door. That way, it wouldn't break your shop's lovely atmosphere and your daily business profit.
Residential Door Repair. For companies in the door business, residential door repair in Sacramento can be tedious, mainly because there are several types of doors that one can find in a single home. To name a few, there are front doors, patio doors, pocket doors, and even shower doors! But Sacramento Handyman isn't just any other company, we are the best in the industry, and we can handle all residential door repairs without a hitch! Such residential door repair includes:
Above are only some of the door repair services that we offer in Sacramento, California. We care for our clientele, and we understand their quirks and their needs. They have never regretted hiring us in the past, and they continue to hire us for repair work that needs to be done.
Even the most minor of door issues can cause significant problems. When door glass is broken, these leaves your home vulnerable to unwanted pests and intruders. The same can be said for screens that are torn. For more extensive damage such as rot or damage to the door frame, this can cause issues with energy efficiency. When there are gaps or places where heat loss and gains can take place, your home's HVAC system will need to work harder to keep it at the desired temperature.
We highly recommend that you have door repair services as soon as possible. This will prevent unwanted pests and intruders from entering the home, as well as save you money on heating and cooling costs. With our affordable door repair services, there's no reason you shouldn't take advantage. It isn't always necessary to replace a door. Door repair is often more affordable and solves the problem quickly.
While you do have options for door repair in Sacramento, we are confident you will be delighted with our work. With over 20 years of experience helping people, just like you, get the quality services they need for their home, our goal is always 100% customer satisfaction. We will go above and beyond to exceed your expectations every time.
Are you tired of having a broken door frame, missing glass, or a flapping screen? If so, Sacramento Handyman is here to help. We provide the best door repair services at competitive pricing to our customers in the Sacramento, CA, area. No matter what type of door you need to be repaired, an entry door a sliding door, we are here to help. We not only offer residential door repairs, but we also have commercial door repair solutions available. CALL US for an estimate and hire us! We'll give you precisely what you need and a little bit more! Your experience will be worth every penny you spend on Sacramento Handyman!