Kitchen Backsplash Installation by Sacramento Handyman
A kitchen's appearance can significantly benefit from the addition of backsplashes. Backsplashes add pops of color, add contrast, or become a focal point to the room. There is numerous backsplash tile to choose from, almost an endless variety. After you have selected the perfect tiles for your kitchen's backsplash, it's time for installation. This is where Sacramento Handyman can help. We are skilled at applying any backsplash to give your kitchen a finished look. We can discuss how and where you would like the tiles placed, and even offer advice if need be.
Are to take the next step and transform the look of your kitchen with the addition of new backsplash? Give Sacramento Handyman a call at 916-472-0507. We also have an option for booking an appointment online. Here you can upload pictures of your tile and give us some details about your project. Once you've submitted your appointment booking, we will get back to you shortly to provide you with a quote. Sacramento Handyman takes pride in offering affordable services, and have competitive pricing.
Selecting the Right Tile
For some choosing a tile is a great shopping experience, others might find it to be a struggle. Selecting the right material will be based on personal preference, and what will work for your space. Consideration should be given when choosing the color choice or pattern of your tile. Tiles should be a complementary color to match the cabinets and countertops.
Kitchen Backsplash Installation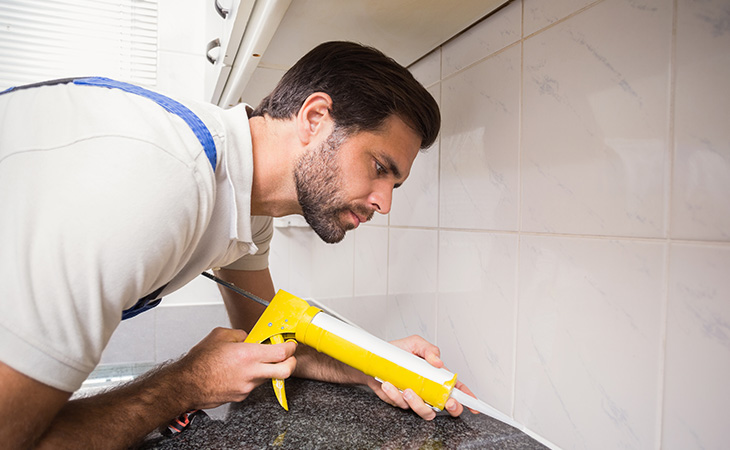 Installing a backsplash will enhance the look of your kitchen. However, installation can be quite tricky. We offer installation services on any type of tile including, ceramic, porcelain, glass, and stone.
Installing a new backsplash will require some specialized tools and techniques. Sometimes homeowners aren't comfortable with the installation or operating cutting tools. Sacramento Handyman can handle the full installation process. All you need to do is have the tile, and we will handle the rest. We can have your backsplash up quickly in as little as a day or two depending on the size of the project.
If old backsplash needs to be removed, this will take longer to accomplish. However, Sacramento Handyman can complete most backsplash jobs in a day. We'll need to figure out the layout to achieve the best results. Next, we will apply an adhesive and get started on laying out the tiles. It is critical that we use spacers to deliver a seamless, straight, and evenly spaced result.
Why Choose Sacramento Handyman for Your Home Improvement Project?
We understand that life gets busy, and taking on a home improvement project yourself isn't always ideal. Hiring a professional handyman to get the job done can make the most sense. Sacramento Handyman has over 20 years of experience doing home improvement projects, and we offer high-quality backsplash installation you will love.
We take great care to ensure tiles are installed correctly, so you can enjoy the finished product for years to come. If you interested in starting a kitchen upgrade project, such as backsplash installation, give Sacramento Handyman a call anytime at 916-472-0507.