Pressure Washing Services by Sacramento Handyman: You've Got to Wash it at Some Point
Dirt, dust, mud and grime can really dampen the way that your home and your other valuable properties would look. When this happens, the next logical thing that you would have to do is to wash them away and get your place (and your stuff) cleaned. Sometimes though, even if you scrub and scrub and scrub real hard, the dirt would still stubbornly cling to your property and no amount of manual scrubbing can rinse it off. Indeed, cleaning obstinate dirt can becomes an awful boar and can get incredibly frustrating. Even if you use a hose and an industrial sponge, the dirt would still be there, silently mocking you and your cleaning skills.
Fortunately, it really is not about your capacity to clean. The reason why such dirt clings is because well – that's just how some things are (that is the grim and sad truth about dirt, grime and all types of waste in this world). But guess what? There is a procedure that is commonly called Pressure Washing and it can solve all your hard core cleaning problems!
Pressure washing is one of the greatest ways to exceptionally clean the exterior of the home. Sacramento Handyman is pleased to offer this service to our customers, to achieve a fantastic looking outside to their homes. Sacramento Handyman provides pressure washing to residents in Sacramento and surrounding areas.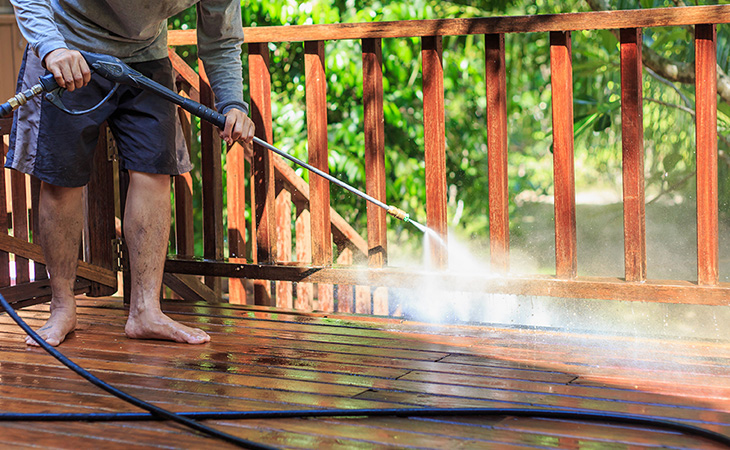 Having this service done doesn't take a long time to perform, and we can do many features in just a single visit. Homeowners need not provide anything for exterior pressure washing. Sacramento Handyman will bring professional equipment to ensure the best results in a shorter amount of time. We utilize a gas-powered power washing that works 2-3 times faster than that of an electric one.
And guess what else? We offer pressure washing services for our Sacramento Handyman customers whether these customers are old or new! We are the real deal for you and we can take care of the dirt that's making you feel blue. Now we know that you are getting excited about our offer, but first let us teach you more about this specific cleaning procedure.
What is Pressure Washing?
Pressure washing is the process of removing dust, grime, dirt, mud and other by-products (even algae) from specific surfaces like walls, vehicle surfaces, concrete walks and even driveways. It uses a special mechanical washer that applies water pressure on the aforementioned surfaces. The water pressure is incredibly strong and comes in torrents so the waste material is washed away.
There are times too when pressure washing would involve the use of detergent to boost cleaning effects. For this kind of pressure washing task, there are two types of chemical injectors available: the downstream and the upstream chemical injectors. The upstream injector would allow water to be emitted first and the chemical would follow after the water passes through the pump. The downstream injector introduces the chemical first and the water would follow afterwards.
So, when you want your exterior of your home to sparkle like new, there is no replacement for pressure washing. When our handyman arrives at your property, we will assess the best course of action when more than one area needs to be completed. Pressure washing is perfect for siding, gutters, and sidewalks. We will first start with siding, beginning on one side, in a sweeping action, back and forth. From top to bottom all visible debris and dirt will be removed. All that will remain is impeccably clean siding that looks brand new again.
If you require more than one feature to be cleaned, we will tackle them next. The process can take anywhere from an hour to several, depending on the severity of buildup. Sidewalks and driveways are prone to dirt buildup, and oil spills. Pressure washing can remove these tough stains.
While sidewalks, siding, and driveways are the most common surfaces to be cleaned, we can also tackle other surfaces. Patios and decks can benefit significantly from being extensively cleaned. They can remove stains that happen over time and can cause a property not to look as fantastic.
Other areas that can benefit are gutters and BBQ grills. These aren't something you typically think of having pressure washed by they can eliminate some of the toughest stuck on dirt and grime.
What Is A Pressure Washer Made Of?
A basic pressure washer is made of pumps, engines and motor, drive system and the accessories. Pumps are essential because they handle horsepower from the motor. The motor of course is the part that powers the pump. The drive system, which is commonly a direct drive system, has a belt that handles vibration from the engine to avoid wearing out of the pump. The accessories, which commonly consist of the pressure washer hose and the wand, make the pressure washer more useful. On the one hand, it is through the hose that water is sprayed and the hose has a nozzle that can spray water in two distinct patterns – the fan pattern or the cone pattern. The wand on the other hand adjusts the spray pattern according to what is needed for the washing job.
In addition, there are several other accessories for the machine although not all pressure washers would have them. Some of these accessories are ball valve, gutter cleaner, dirt buster, telescoping wands and whirl-a-ways and they all have specific pressure washing functions. Sacramento Handyman has all of these accessories because we know that your pressure washing needs could be extensive and we want to make sure that we are ready for this big responsibility!
Are There Different Types Of Pressure Washer?
There are several types of pressure washer in the market and the two main ones are electric and gas. But there are also petrol, diesel and hydraulic pressure washers. In some industrial setting, there is also a machine that is commonly called as an insulator pressure washer. This type of pressure washer pumps approximately 60 gallons of water every minute. Many times insulator washers are used for outdoor cleaning hence they can be mounted on trucks and trailers. The power generated by an insulator pressure washer makes it an adequate washer for the outside, even when the outside conditions are not good.
What Pressure Washing Services Does Sacramento Handyman Offer?
The truth is, for us, pressure washing is a fun Sacramento Handyman task and we seriously love carrying it out! We can do any type of pressure washing for our Sacramento customers and our customers from surrounding areas. We can clean your fence, your exterior walls, your garage, and your vehicles – basically every surface in your house that you think is in need of pressure washing. We can even clean your sidings for you without breaking them (we know that sidings need extra care because the water pressure can damage them)! We also know not to spray your windows or there will be a loud crashing sound due to broken window panes!
Furthermore, we have had a good deal of practice on this particular type of work because we have devoted our time and our effort to improving our skill in the trade. We have adequate knowledge on pressure washing relevant information such as the amount of horse power an engine can make which is associated with the pressure and volume that the pump would produce. We also understand PSI or Pounds per Square Inch, which is technically related to the amount of water pressure that is needed to clean, the volume of water that pressure washing would entail and the cleaning power units (CPUs) of the pressure washer. The last is an important element because it indicates the cleaning capacity of the pressure washer.
Not only are we knowledgeable in the trade, we also deliver quality service and a service charge that is within your budget. So really, there is no need for you to worry about us not getting the job done correctly because we assure you that we can! Furthermore, there is no need for you to think about spending too much money on pressure washing because we've got you covered in that aspect too! To learn more about our claim, browse through our client testimonial page. You'll be delighted with what you read. So, happy reading and, of course, happy calling! Our representatives will gladly take your call!