Custom Shelving and Closets by Sacramento Handyman
Have you been longing for a luxurious closet that can keep your personal space more organized? With all the shelving ideas that are found on the internet and TV shows, custom shelves and closets have become a staple in today's homes. Sacramento Handyman would love to help you achieve the closet or shelving of your dreams. Give us a call today 916-472-0507 and let's start discussing your home improvement project.
We are experts in custom carpentry and can fulfill any of your needs when it comes to installing. Sacramento Handyman understands how vital to bringing your vision to life is. That is why we will go over in detail exactly what you are looking for, and we'll strive to exceed those expectations. Offering affordable custom shelving and closets for Sacramento and surrounding areas, Sacramento Handyman are there to help.
Custom Shelving
Shelving within a home provides extra storage space, and a way to put things on display. There are several types of custom shelving a homeowner can install, and Sacramento Handyman will expertly install any your choosing.
Cube Shelving
For a versatile look that complements any home, cube shelving can elevate any room. Cube shelving can be customized to any specifications. They can be used in the laundry room for additional storage opportunities, or in child's bedroom to make toys more manageable. Many homeowners like having cube shelving throughout the home to have home decor displayed.
Cube shelving doesn't always take the square shape; they can be any desired shape including, triangular or even circular. They can be symmetrical and are usually classified by the number of shelves they contain.
Cube shelving is a relatively inexpensive storage solution that can be quickly installed. Sacramento Handyman can install permanent cube shelving that is affixed to the wall. It will be durable and will last a long time.
Custom Bookcases
Bookcases do more than store books. While its name suggests a perfect place to store your collection of books, they are incredibly versatile. Bookcases can be found in the living room to provide additional storage space or to give any room a more organized look. Custom bookcases can be fitted to any area and made to be a permanent fixture in a room.
Custom Closets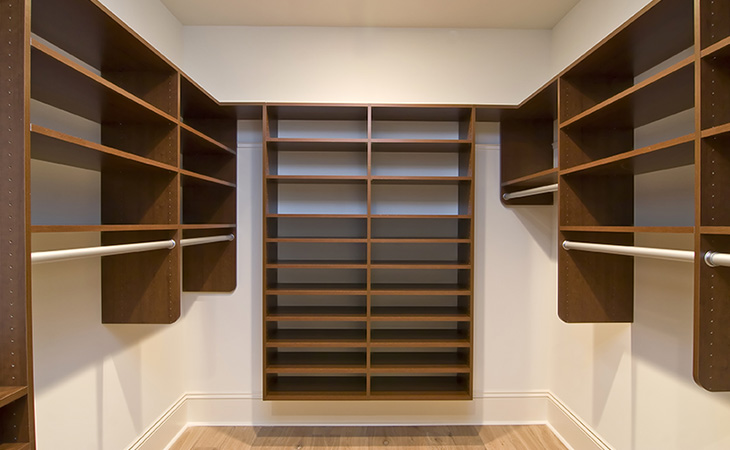 Is your walk-in closet lacking organization? Is it just a barren area with items strewn about. No matter the size of the closet space you have, there are options to add a personal touch and help to keep your things more organized. Reach-in closet spaces can have wall to wall shelves, which create a better opportunity to hang clothing and keep shoes organized.
Walk-in closets have more options available, because of their size. If a closet is large enough, an island can be a great place to add drawers to store items. A custom closet from Sacramento Handyman can begin utilizing the space in a way you are going to love. Custom closets can include shelving.
Why Choose Sacramento Handyman for Custom Shelves and Closets
Do you want to get your project done the way you envision in your head? Sacramento Handyman will listen to your ideas, or help you to choose the best options for your area. We are experts at installing storage solutions to complement homes and have over 20 years of experience. Give Sacramento Handyman a call today 916-472-0507, or fill out our simple form to get started on your next project.