Sacramento Security Door Installation Service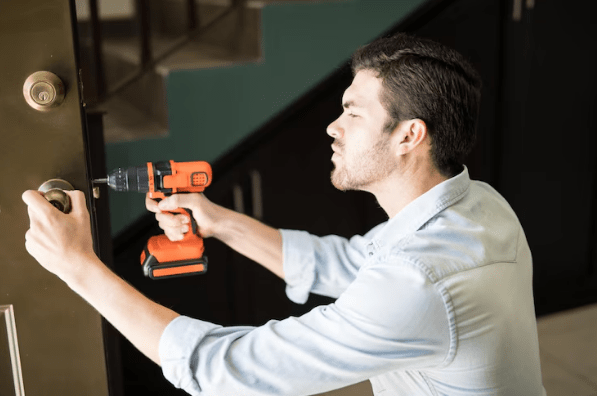 There are many steps that you can take to protect your home from theft and invasion. You may install a security alarm, add better locks to your doors and install motion-activated lighting. Another idea is to install a security door to the front and rear doors of the home. These are enhanced doors that typically have a solid metal frame that is difficult for others to penetrate through. They also typically have a locking mechanism that can be customized with your selection of a lock for superior protection. This is an additional barrier that is installed in front of the primary exterior door. While they can be decorative, they also are a beneficial security feature that are ideal for most homes. The team at Sacramento Handyman can provide you with fast security door installation service.
Choosing the Right Door
Before you set up an appointment with Sacramento Handyman for security door installation service, it is important to choose the right door for your needs. These doors typically have a metal frame with metal interior features inside the frame for extra protection and security. However, the style of the door's metal components varies. Some have an ornate decorative design included in the metal frame, and others have straight beams that run vertically across the door for protection. While the most common color for these doors is black, you can also find them in white, beige and other colors to suit your needs. Because this will be a highly visible feature on the exterior of your door, it is important to select the right door based on the level of security it can provide to you as well its aesthetic design.
The Benefit of Professional Installation
In order for a security door to provide you with the highest level of protection available, it generally must be properly installed. The best way to properly install a security door is to have it professionally installed by a knowledgeable and experienced contractor. This will ensure that the door frame is anchored securely into the home and that it cannot easily be pulled out or otherwise breached. Furthermore, because many of these doors are made out of steel or other heavy-duty metal materials that are designed to be difficult to penetrate, they can be very heavy. This can make the installation process challenging, but professional contractors who have experience installing doors such as these can provide you with rapid, accurate installation service.
If you are concerned about home security, you are not alone. Some are concerned about security due to stories they heard on the news, local break-ins or other issues. When security is weighing on your mind, installing a new security door or several of these doors on all of your property's exterior doors is a great idea. You can pick out your security doors today. Then, contact the team at Sacramento Handyman to set up service.
You can request a free estimate for the door installation service from the crew at Sacramento Handyman by calling 916-472-0507.