For the Love of Soffit and Fascia: Through the Eyes of Sacramento Handyman
As a handyman services company, we make it a point to educate the interested public about the parts of a home structure. As a company, we believe that it is best to help people understand their homes and their houses' different parts in the event that they want to engage in home improvement projects. You see, just because homeowners hire us, it does not mean that we simply think of them as our business. We feel that we should not leave them in the blind with regards to being informed about their own property. After all, their home is where they build their dreams, spend happy moments together and raise their families.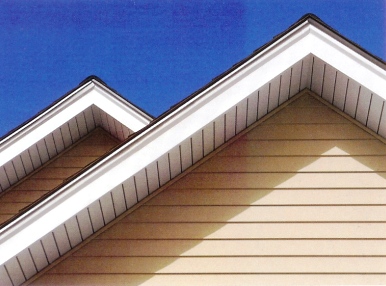 Aside from gates, lighting, siding, driveways and such, two of the home structures that we love to talk about are Soffit and Fascia and we would like to share with you, whether you are an existing or prospective client, our knowledge about them and the work that we do which would directly involve these two home structures. The most basic thing that we need to know is what Fascia and Soffit are.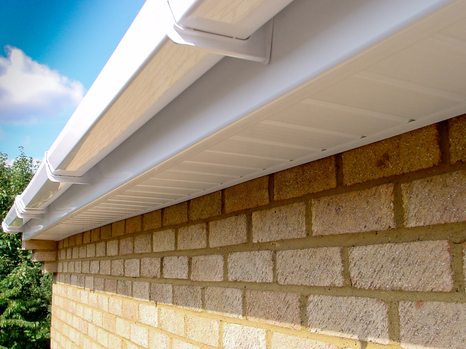 What in the World are Soffit and Fascia?
All Sacramento homes have soffit and fascia because they are part of the roofing system and homeowners see them all the time. It's just that not all homeowners are aware of what they are called so when asked about these two, some homeowners may not know the answer. So here's the 101 on the subject.
Fascia, which is made of very long boards, bridges the roof to the outer wall of the house. It is connected to the roof's trusses, rafters and technically on the roof line. Fascia is responsible for holding up the bottom edge of the roof and at the same time supporting the gutter. Fascia boards are, by no means, strong mounted structures considering how at one point, the gutter (that they support) would be carrying a lot of water from heavy rainfall. A house's fascia also helps the roof appear smooth when viewed from the outside, thereby adding beauty and value to the house at an overall level.
Soffits on the other hand are the boards that are under a house's fascia. The term soffit can mean "formed as a ceiling", which is actually representative of the appearance of the soffit panels. They have holes for air ventilation and are built in the exterior portion of the house so that the eaves would be closed. If there's rain and wind, soffits prevent the water from going into the house. At the same time, their holes allow air to cycle inside the roofing system, thereby preventing rafter and sheathing from rotting. If the house has an attic, the holes of the soffit panels would allow air to circulate in the attic.
What are Soffit and Fascia made of?
For many Sacramento houses soffit and fascia are made of vinyl, UPVC, wood or aluminum. Although aluminum and wood are highly durable, they do not offer the same maintenance ease that is offered by UPVC and vinyl. Hence, homeowners may prefer the latter two compared to the former. With regards to fascia, there are vinyl fascia that are beaded and there are also those that appear wooden. They may also be white in colour, or black, rosewood and several other colours and can be made from recycled materials. If they are made from recycled materials, they are likely to be more economical to purchase too. There are plenty of colour and type options available for homeowners so that both their fascia and soffit would match their house's design. In addition, aluminum fascia may be placed over wooden ones to help maintain the wooden fascia boards. Soffit can also be wrapped with pre-finished aluminum so that they are easier to maintain.
What Work Does Sacramento Handyman Do with Soffit and Fascia?
We work on Sacramento homes' soffit and fascia through two ways. The first is in terms of installation and the second is in terms of repair and replacement.
Soffit and Fascia Installation. Sacramento Handyman installs soffit for newly constructed homes as well as homes that are under renovation or remodelling. For newly constructed homes, we install soffit to fit open eaves while for remodelled houses we install them to fit enclosed eaves. Our soffit installation process also includes measuring distance from existing fascia to the wall and checking the receiving channels (an example of which is the J channel).Furthermore, we prepare the soffit by removing shingles if it becomes necessary. We also cross cut the panels for ventilation purposes and if our customers would prefer it, we nail soffit panels directly to the fascia boards. Of course, our soffit installation procedures include fitting soffit panels around roof corners which entails more detailed work and great craftmanship.
For fascia installation, we also have specific step-by-step processes that we follow. We do this in order to ensure the quality of our installation job. For instance, before hammering, cutting or fitting fascia boards, we consider first everything that has to do with them including but not limited to the frieze runner, fascia trim, finish trim and even the soffit panels.
Soffit and Fascia Repair and Replacement. Sacramento handyman additionally offers soffit and fascia repair to make sure that broken boards will keep up with their functioning "relatives". When soffit and fascia, particularly the wooden kind, start rotting, it simply means that there is a need to fix them or replace them. If we are hired for soffit and fascia repair, we diagnose the extent of the damage first. If the damage is too big, we would recommend replacing them. When replacement is essential, we help our customers pick out the best Fascia boards and soffit panels as well as the best nails to fasten them with. We also address the source of the damage to avoid affecting the interior of the house. We further recommend other pertinent actions to prevent future damages like painting both fascia and soffit edges for added protection from water seeping into them.
How much do our Soffit and Fascia Services Cost?
Unfortunately, service charges for soffit and fascia work – whether the job is installation or repair and replacement work can cost a lot of money. Many contractors, roofing guys, handyman services and carpenters charge as much as over a thousand dollars to cover material cost alone! This is because fascia and soffit panels can really be expensive since they have per square foot prices (normally they are priced between $3.50 and $6.00). The larger your house is, the higher is the price that you pay particularly when you add labour and quality control charges. The fact that soffit and fascia projects can break your bank account might also deter you from availing of such services even if they are vital to the lifespan of your house. Fortunately, Sacramento Handyman offers soffit and fascia services at more affordable prices. Although we cannot control material costs, we can control other relevant service fees hence we can offer our services at more reasonable rates compared to our competitors.
Are We Really Worth our Price?
Our answer to this question is a deafening DEFINITELY! We are Sacramento Handyman and we have top-rated performance for installation, repair, replacement, maintenance and other handyman services. Our workers have years of training and have mastered their skills as a result of over 20 years of experience in the handyman trade. We have been hired and re-hired by customers who find our work extraordinary great and our workers pleasantly friendly. To top this, our prices are cheaper compared to other companies. If you wish to know more about us and our services, talk to us. Our representatives are waiting for your very important call! You may also see our portfolio in our website.